The Boat: sold in July 2019
After eleven years owning Xebec, finally decided to sell her for being able to settle down onshore; there were many people interested and just in 5 months she found a new owner.
The advert is kept online as a reference for the rest of the site where I talk about my sailing adventures; it gives a realistic image of the condition in which the boat was kept during all those years.
| | |
| --- | --- |
| Builder | Offshore Yachts (UK) |
| Model | Halcyon 27 (1970) |
| Material | Glass Fibre |
Dimensions
LOA: 8.23m (27 feet)
Beam: 2.34m
Draft: 1.40m
Interior height: 1.80m
Displacement: 3.048 kg
In this video (in spanish), you can get an idea of the ship details and condition, it was recorded in February 11th 2019:
Belgian flag
Insurance paid until February 2020
Marina paid until February 2020 (in Santa Maria island, Azores, Portugal)
Actually the boat is located in a very sheltered place in Vila do Porto marina: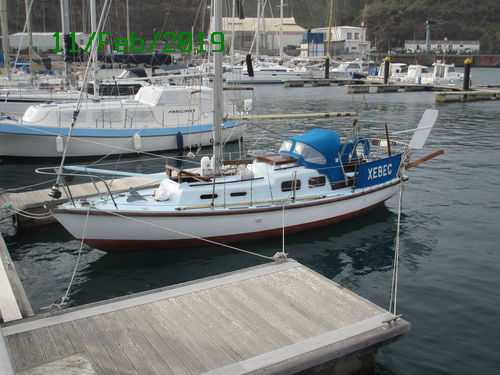 New mast and spreaders in 2005
New standing and running rigging in 2015
Furlex S200
Lazy jacks
Baby-stay for storm sail (2015)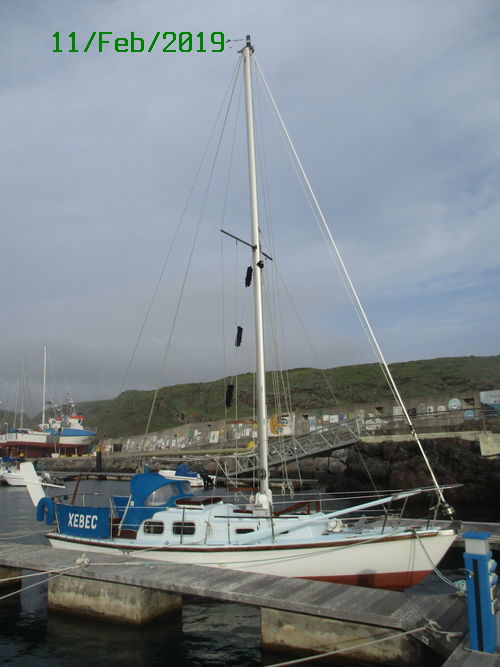 Sails in good condition:
Main SKB year 2002, (3 reefs)

Genoa SKB
Old spinnaker with very little use

Storm sail
Self draining cockpit and non-slip deck: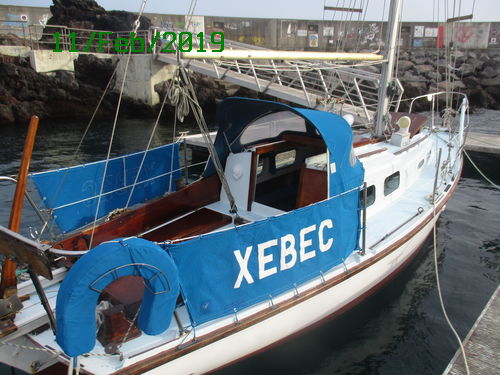 Deck equipment:
Anchor windlass (Lofrans Royal)
Sowester CQR anchor with 35m of chain
Spray hood and named dodgers
Big cockpit cover made of strong fabric:

2 big dorades
Bronze cockpit hatch for accessing engine silencer and shaft bearings
Rat-lines with cleats to both sides
3 meters paddle with 2 rowing points (stern and side)
Deep cockpit lockers: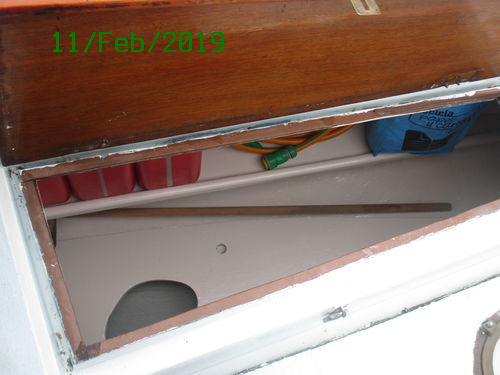 Same owner for the last 11 years, always well kept for: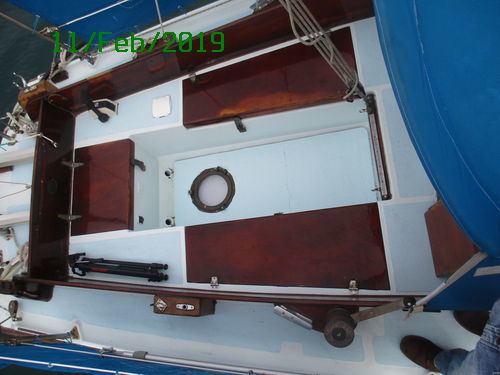 Sailing equipment:
Hasler wind vane autopilot
Installation already made for Autohelm autopilot
Plastimo compasses (2, see photos)
Raytheon Depth Sounder
Hand held VHF
Mast wind vane new in 2015

2 manual bilge pumps (Whale and Jabsco)
Big radar reflector
Fire extinguisher
Flares and smoke signals
Horseshoe lifebuoy
Compact galley area with 2 sinks and gimballed two burner alcohol stove: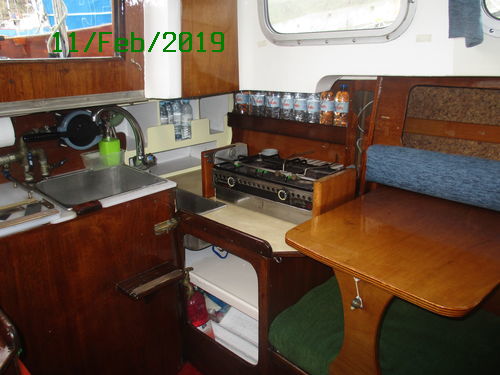 Gravity fed water tank
Sea water taps, one with foot pump and other gravity fed
Gimballed Electrolux ORIGO 3000 (2 burners)
Big chart table: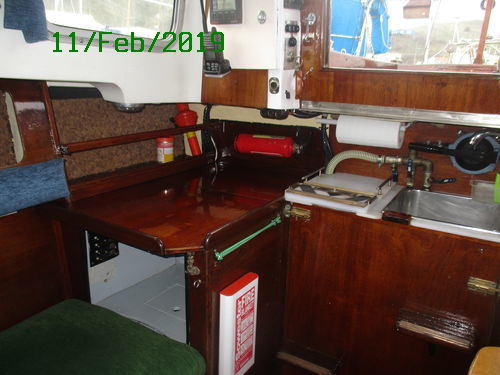 New saloon upholstery and "blue foams" (2017):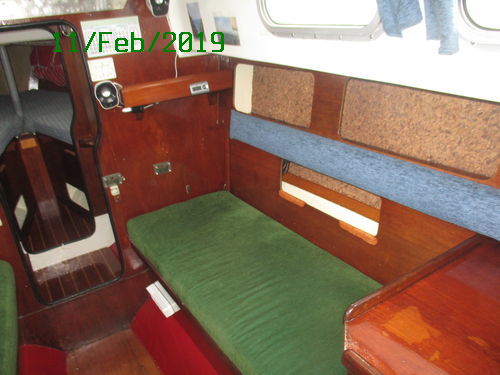 Two saloon tables with different positions, to starboard side: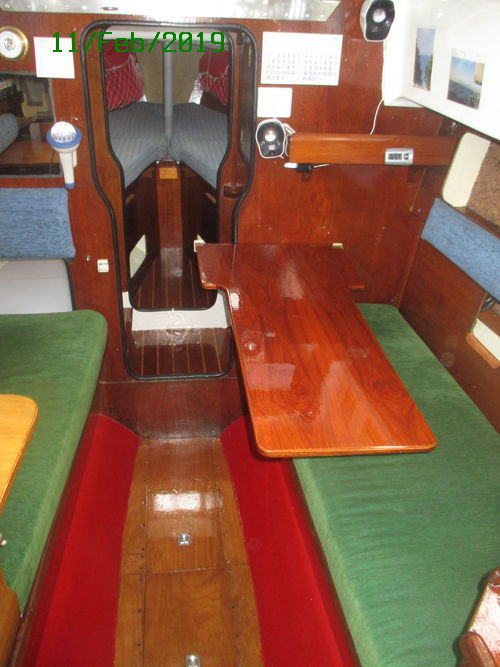 And between the 2 saloon berths: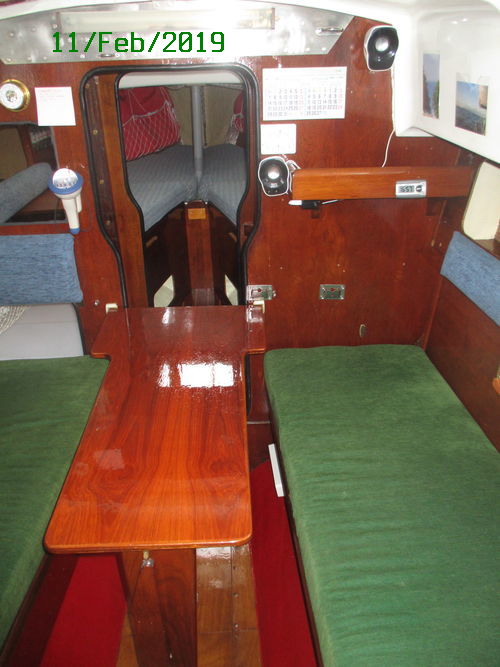 The kitchen table fits in any place of both bunks and can be stowed flat very easily.
Between the fore cabin and the saloon there is this big stowage area to port board side: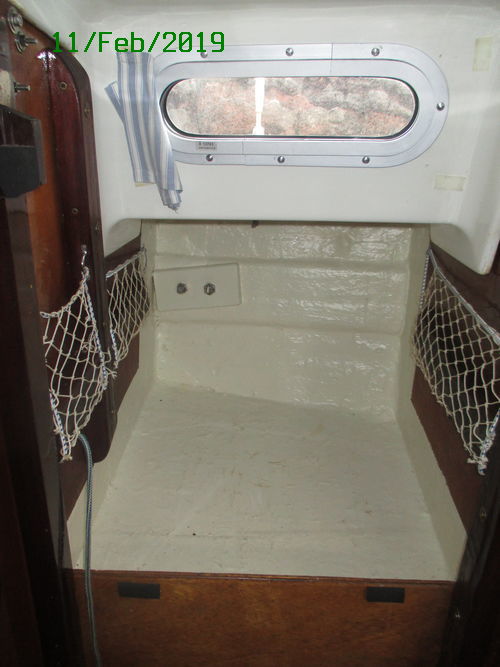 To starboard side is the head, a modified gravity fed SL400 with a Whale Mk5 pump (no need for hard to find spares):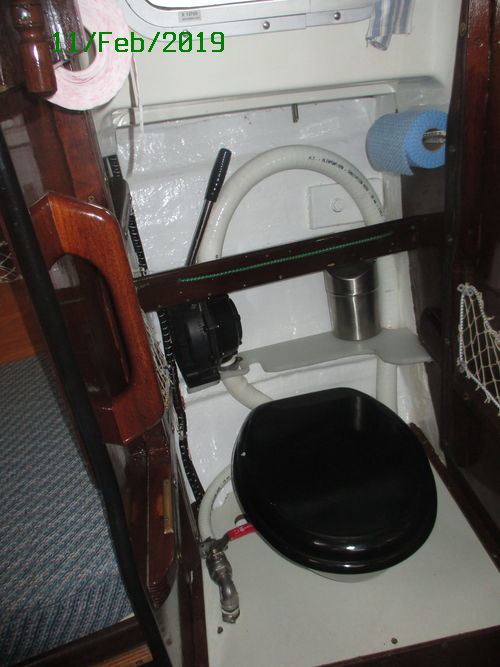 The chain pipe in the middle of the fore cabin can be moved to one side when not sailing: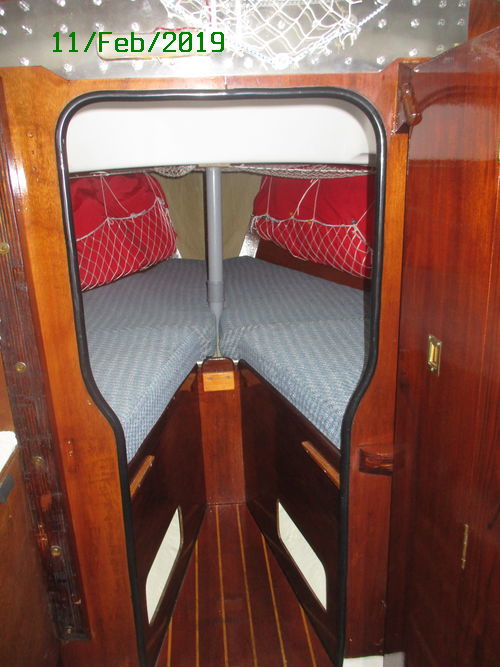 That way you get a big bed, 1.90m long and 1.70m wide in the upper part: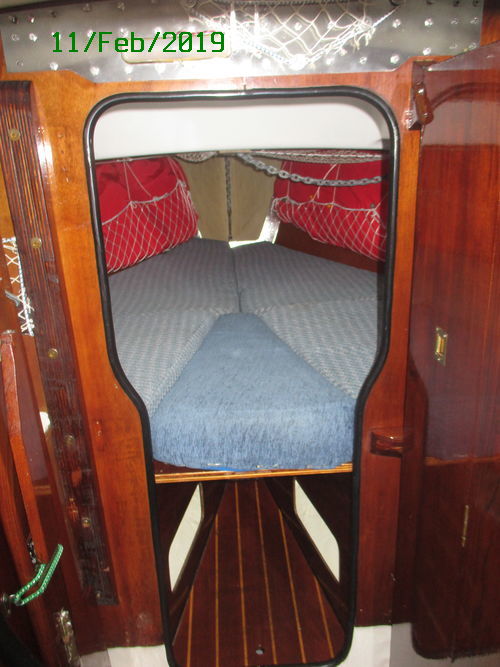 The fore cabin has plenty of stowage space: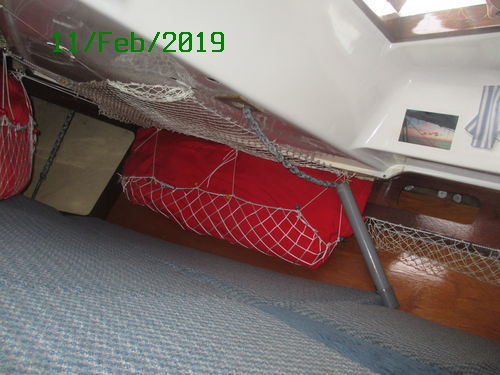 There is a "mini-stay" in the bow joining the end of the baby stay (used for the storm sail) to a strong point in the hull: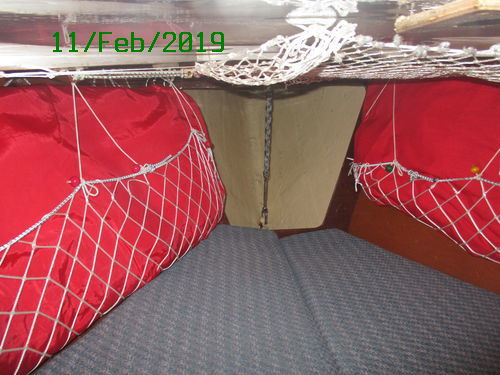 The bilge and the whole boat are dry, clean and free of smells: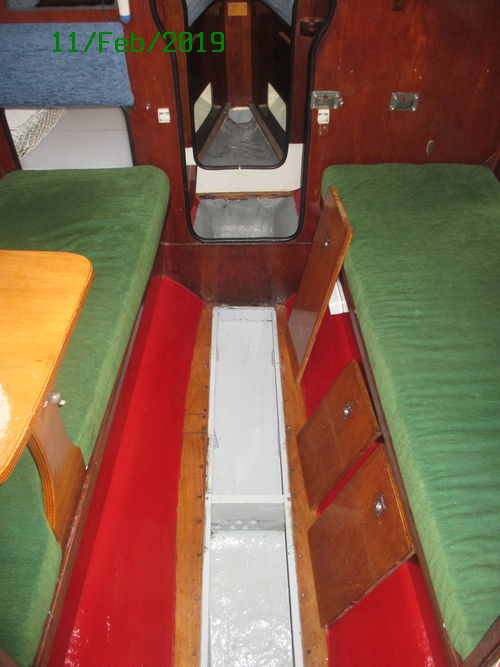 The lead ballast is encapsulated in the keel; the bilge has plenty of stowage space: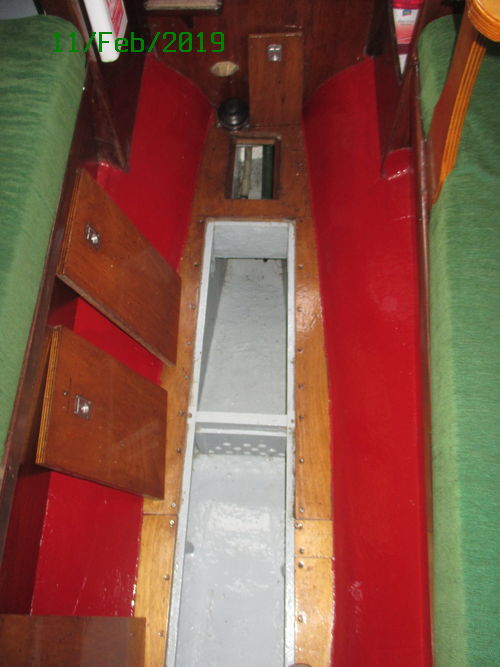 The engine and all related systems were installed new in 1999, they have always been well maintained; the engine has just about 1300 hours:
Beta Marine 12HP (Kubota)
New heat exchanger (2015), also escape elbow, hoses...
New shaft bearings (Vetus) in 2015
New engine feet (2015)
Stainless steel diesel tank cleaned and revised in 2015
2 new batteries in 2017 (70 and 90 Ah)
Less than 1 litre fuel consumption per hour at 4 or 5 knots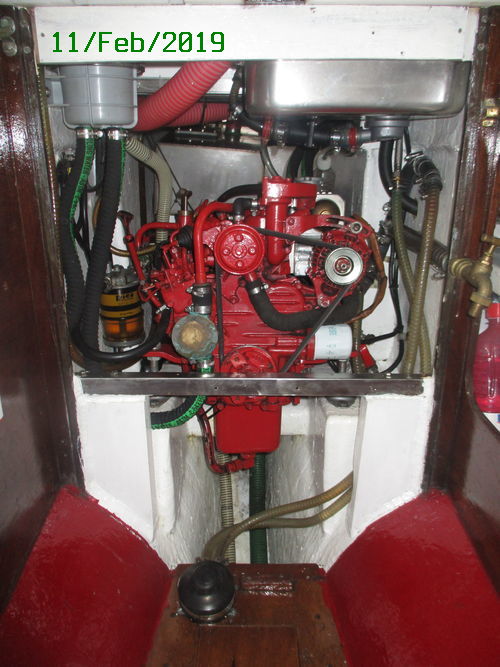 Improvements made during last years:
Custom made stainless bow end, much better and stronger than the original one
Mast base and bulkheads reinforcements in 2009, see video for details:

New rudder (2012), made in Câmara de Lobos shipyard (Madeira island) with a solid piece of "tola de Gabão" wood with a perfect cut for the task:

The piece joining the rudder and the tiller is also new, made in stainless steel of 6 and 10 mm thickness:
Hull peeled and reglassed with epoxy resin and 3 to 4 new layers of mat and woven roving (2014)
New standing and running rigging in 2015
Xebec is a very safe and seaworthy boat that will take care of you in all conditions, it can take one or two persons to mostly anywhere in the world, many Halcyon 27 like her have circumnavigated, for example the first boat of Holandés Errante de Calafell was a Halcyon 27.
This one is in very good condition, always well maintained, it can be seen prior arrangement in Santa Maria island marina (Azores, Portugal), a very nice archipelago with direct flights from Lisbon and London among other European and American capitals, for more info just write me or call me to (+34) 969 59 1212.
---